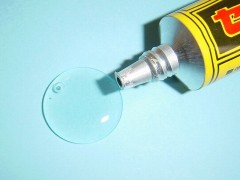 Substances like glue, and solvents like nail varnish and paint thinners among others give off fumes that contain several toxic chemicals which have a mind-altering effect if inhaled.
Glue sniffing induces a state of hallucination not unlike an inebriated condition, and marked by incoherent speech, the inability to maintain balance and to discern things clearly.
The immediate effects of glue sniffing can lead to suffocation and unconsciousness - which could be fatal as the fumes depress the respiratory system and rate of heart beats; also, as one is not in control of one's senses, one can easily get involved in accidents and injure oneself.
The hallucinogenic effect generally lasts for about 15 minutes, with a severe headache and a stupor-like condition occurring afterwards, and it may be hours before one can regain full control over one's faculties. Long-term abuse of the substance results in damage to the kidneys, liver, brain and overall nervous system.
The fumes also have a degenerative effect on the nasal cavity and lining, resulting in discomfort while breathing. Some other related effects are chronic respiratory problems like bronchitis, skin rashes, loss of weight, unstable temperament and diminished levels of concentration.