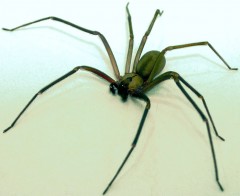 The brown recluse spider is also nicknamed as the "fiddle back" spider. It is conspicuous by the dark-violin shaped mark on its back, and its light tan to chocolate brown color. This spider has its haven in warm places like a wood pile or a closet. If the brown spider walks its way into your bedsheets or in your clothing, you can be afflicted by a painful bite.
What Are The Initial Symptoms?
Initially, the bite will be unnoticed because they are generally painless. The symptoms begin to 2-7 hours after the bite. The pain becomes severe after 4 hours. Itching begins to occur and the person may even feel nauseous. There are even chances of the patient contracting fever and muscle pain.
What Does The Bite Look Like?
On first inspection, the area around the bite has a mild reddish tint and when you look closely, you will be able to see the fang marks. Within the next few hours, the redness soon changes to a pale white with a red ring enclosing the bite mark, giving a characteristic 'bull's eye' appearance. Within the next 12-48 hours the central part of the bite begins to sink, becoming bluish and then blackish.