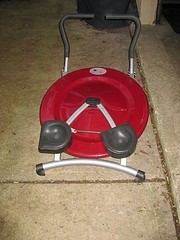 Having tried the ab circle pro, I really don't understand why so many people are complaining about it! Yes, it's not the hottest piece of home gym equipment I own, but top quality home gym equipment can set you back thousands of dollars! In my opinion, for the results you can get out of it, the ab circle pro is in roughly the correct price range.
My Ab Circle Pro Review
Me and my wife are both quite active and, to be honest, I'd rather spend time at the gym than have to clutter up my home with bulky gym equipment.
But my wife had a c section (her second one) following the birth of our son, and so she was unable to work out for a while. We decided to invest in an ab circle pro when she started developing a massive spare tyre around her tummy and huge love handles.
She's been using the ab circle pro for 2 weeks now, usually only for brief 10 minutes sessions three times a day.
Results With The Ab Circle Pro
Bearing in mind she hasn't changed her diet at all (actually we both enjoy our food a little too much, trying to kick that habit!) the results were very good.
In just 2 weeks she's lost 2 cm from around her waist, and the difference is notable both face on and side on.
It's nothing dramatic, she hasn't turned into a supermodel over night, but you can certainly see where her love handles have shrunk ever so slightly.
These results are from 2 weeks of using the device, imagine what could happen if she perseveres!
Ab Circle Pro Complaints
People often complain about the sore back, but I honestly believe its strengthening your lower back muscles and ends up being good for you.
My wife said it was like torture at first, but her back started to feeling a little more strengthened after a few days.
As far as the customer service complaints that I've read regarding the company, they're very likely to be true.I can't really comment on that because we didn't have any issues with the way it was sold to us, but as far as your original question goes, I feel the price for the Ab Circle Pro is fair.