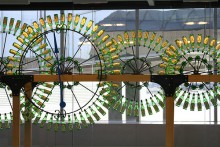 The length of time that alcohol will stay in your system depends primarily on how much alcohol you have consumed. As a general rule of thumb, it takes one hour for one unit of alcohol to leave your system. This can vary though, depending on the following:
Liver health
Age
Weight
Gender
Metabolism
What you've eaten that day
Type, quantity and strength of the alcohol
Any medication that you might be taking
Sometimes, it can take over 24 hours for the alcohol to leave your blood - this is why, after a night of heavy drinking, some people will still feel drunk for several hours the next day!
Alcohol Testing
An EtG urine test, as commonly used on people on alcohol probation, will discover if you have had alcohol up to 80 hours after it is out of your system. In other words, it's best to refrain from drinking at all if you are getting random EtG urine tests (either at work or after being legally prohibited from consuming alcohol). The test is sensitive enough to even pick up alcohol-based antibacterial hand-washes or strong colognes, and many people argue that the EtG is too sensitive to be reliable.
Another method is blood alcohol testing, which can only test the amount of alcohol currently in the bloodstream.
Breathalyzer tests can only detect alcohol that's currently in your system. The tests are quick and non-invasive, which is why they're often used at the scene on individuals suspected of drink-driving.