With regards to whether 4 tablets can abort a 4 week pregnancy, it is important to note that this is a very sensitive issue.
Here's some useful info on different types of tablets, and how they can affect your pregnancy:
Aborting a pregnancy with tablets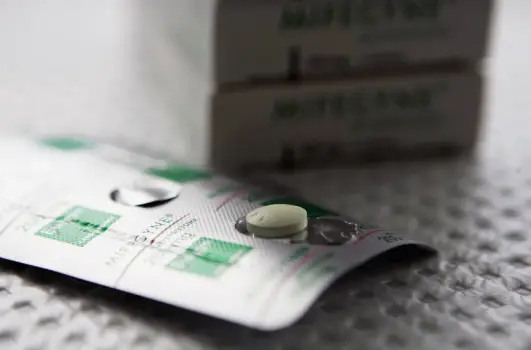 With relation to early medical abortion, you can use the tablet method as late as 9 weeks into pregnancy, therefore at 4 weeks it is still safe to do so. However, in order to go through with this procedure you must be sure to contact your local clinic and do so in the proper and effective method, otherwise this can be life threatening, and result in fatal damage to your uterus.
An early medical abortion is a two-part process set approximately 2-3 days apart. On your first visit, you will be given a pill which makes the womb unsuitable to accommodate a fertilised egg. Some women experience mild cramping/bleeding after this stage, however most women do not experience anything at all.
On your second visit, two days later, you will be given your second treatment, 'prosaglandin', which will result in bleeding akin to an early miscarriage. This can sometimes be painful.
Therefore, in answer to your question, early medical abortions usually take the course of two different medicines, as opposed to 4 tablets, but make sure you seek professional medical advice before taking any kind of medication or action against an unwanted pregnancy.
For more information on abortion, see the following NHS link.
Abortion - How is it performed